Let us handle the technical complexities of bringing your project concepts to life so that you can focus on your business operations.
Send us a message or give us a call to book your free no-obligation assessment.
Your Engineering & Design Experts
At the core, we design beautiful, functional, and well engineered software with cutting edge technologies. Our complete end-to-end service offering lets you focus on operating your business while we worry about making the technology work. We cater to a wide range of organizations – our clients include small and mid-size businesses, government organizations, educational institutions and municipalities.
Our goal is simple: Help you build best-in-class software and technology solutions you and your customers will love.
We have an impressive portfolio of successful projects to back up every competency we offer. We work hard to acquire the best talent in the industry and are very proud to boast that we have it. Save headaches, time and money by hiring the most skilled engineering team to tackle your project.

Software Engineering
Custom tailored software solutions for mobile, web, desktop, database, digital signage and embedded hardware applications. Your imagination is the only limit as to what is possible.

Enterprise Integration
Consolidate data and workflows across applications to eliminate manual entry and streamline your business processes. Our highly specialized techniques allow us to seamlessly integrate all software together whether it is desktop or web based.

Hardware Engineering
Looking to build a unique custom hardware solution? From design schematics and board layouts to writing the embedded software and overseeing the manufacturing of your hardware, we got you covered.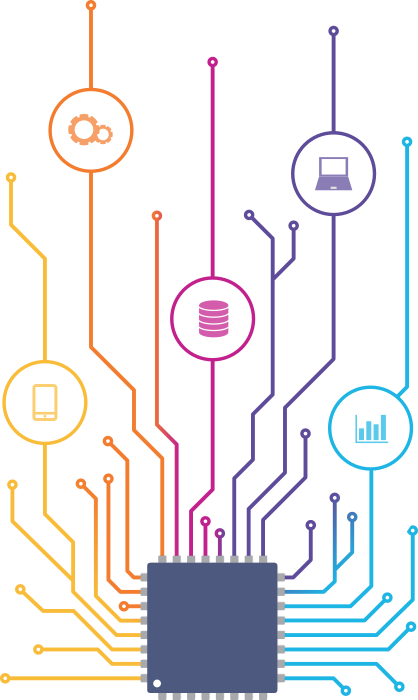 We offer a full range of value-added services that can be bundled with your project to ensure your technical needs are covered end-to-end and you have a single point of contact for all ongoing maintenance and support.

I.T. Services
Blazing fast, insanely scalable and fully managed: our in-house server/web/email hosting is tailored specifically to your project at a value that can't be beat. We are confident you won't want to host your project anywhere else.

Graphic/UI Design
We offer a full assortment of design services, including custom user interface design and branding asset design such as logos and print materials.

Consulting
Get expert technical advice to assist your team with decisions pertaining to your software or hardware projects and IT infrastructure.